Check out more information on #IABBAddicts
here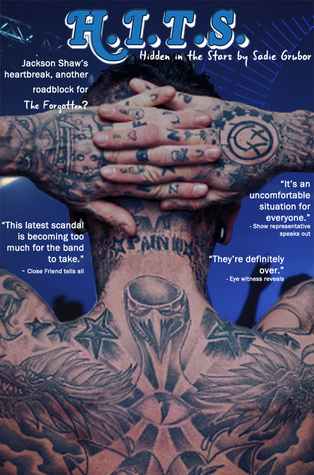 Title
:
Hidden in the Stars
Series
:
Falling Stars, #2
Genre
:
Erotic Contemporary Romance
Date published
:
August 13, 2015
Synopsis:
When you're Jackson Shaw, guitarist of The Forgotten, and your hearts been broken, shattered by the deception of a woman you thought was the one. You can't hide from cameras and millions of fans hanging on every dirty detail printed and posted.
What you can do, is swear off love and dull the ache with gorgeous women who look nothing like that girl who tore you apart. A supermodel girlfriend and sexplicit escapades splashed across the tabloids is the ultimate revenge. It's also the perfect way to hide your pain in the media. But when the ache turns to a hollow pit, and there isn't enough sex, drugs, or alcohol to fill the emptiness, what do you do?
You cut your losses and head to L.A. to mentor the latest reality talent show. You follow an old friend into a world where the art of the tease and bump and grind were perfected. Where the sound of her voice calls to every primal instinct buried within your body and makes the demand for your attention.
Jackson's an addict, and just one taste puts him back in the precarious position of falling in love with a woman who's mastered the art of ensnaring and teasing.
AMAZON
//
GOODREADS
EXCERPT
Showers complete, Lucas, Sean, and Kel convince Jackson to join them for video gaming. I'm thankful for the moment away from his little touches, seductive looks, and that damn mouth of his. My mind is almost cleared when Sid calls.
Of course, she's more interested in the fact that Jackson is in my apartment. And keeping her on topic regarding my budget is practically impossible.
"You do realize you have Jackson Shaw, guitarist of The Forgotten, playing domestic daddy in your apartment, right?"
"Sid," I use my warning tone, "it's not like that, and stop referring to him by his full name and job description. It's creepy."
"It's not creepy, Liza. It is panty melting, nipple tightening, hot as fucking hot can get. The fact that you don't realize this concerns me. Is your vagina working properly?"
"Stop it," I laugh.
"Perhaps you should have him check under your hood. And when I say hood, I mean clitoral hood," she deadpans.
"Oh my God, stop it!" I cry out in laughter.
"Should I be jealous?" His voice, next to my unoccupied ear, ensures my vagina is working just fine.
"Sweet Lord of penises, his voice is sexy," Sid sighs over the phone.
"Jealous of what?" I pull the phone away from my mouth and tilt my head.
"I only want to hear 'oh my God' when it's followed by my name and you coming around my cock." His tongue flicks the lobe of my ear.
I shiver and tighten my crossed legs.
"That's it. I'm ruined," Sid cries dramatically. "No man will ever live up to this."
"Both of you stop." My words are breathy and it takes all my strength to lean away from his mouth.
"Pizza!" Lucas shouts, running toward the buzz of the intercom.
Jackson straightens and steps back from me. Taking a deep breath, I move to stand, but his hand on my shoulder stops me. Instead, he walks over to the door, pulling cash out of his back pocket.
"Damn cock blockers," Sid grumbles.
"Sid!" I scold, but smile.
"Well, damn, the kid just killed the ear porn I was getting," she whines.
"Don't you have enough porn already?"
"You can never have enough," she snorts. "Besides, this was real life rock star ear porn. Girl, I need to freshen up after that."
GIVEAWAY
a Rafflecopter giveaway
If you'd like to participate, here's the HTML:
<div style="background-color: white; color: #464760; font-family: Arial, Helvetica, sans-serif; font-size: 13px; line-height: 18.2px; text-align: justify;">
<div class="wsite-image wsite-image-border-none" style="margin-left: 0px; margin-right: 0px; padding-bottom: 10px; padding-top: 10px; position: relative; text-align: center;">
<div class="separator" style="clear: both;">
<a href="https://www.blogger.com/null" style="color: #945fc3; line-height: 18.2px; text-decoration: none;"><img alt="Picture" src="http://www.platypire.com/uploads/2/5/6/4/25642156/165568587.jpg" style="background: transparent; border-radius: 0px; border: 0px !important; box-shadow: rgba(0, 0, 0, 0.2) 0px 0px 0px; max-width: 474px; padding: 8px; position: relative; vertical-align: middle; width: 473.993px;" /></a></div>
<div style="font-size: 11.7px;">
</div>
</div>
</div>
<div style="text-align: center;">
Check out more information on #IABBAddicts <a href="http://www.platypire.com/iabbaddict.html">here</a></div>
<div style="text-align: center;">
Join us every Thursday for IABB <a href="https://www.facebook.com/Indie-Authors-Book-Blogs-591593830928326">#Confessions</a></div>
<div style="text-align: center;">
<br /></div>
<div style="text-align: center;">
<br /></div>
<div style="text-align: center;">
<div class="paragraph" style="background-color: white; color: #464760; font-family: Lilly !important; font-size: 13px; line-height: 1.5; margin: 0px; padding: 0.5em 0px;">
<b><span style="font-size: large;">ABOUT THE BOOK</span></b></div>
<div class="paragraph" style="margin: 0px; padding: 0.5em 0px;">
<div style="background-color: white; clear: left; color: #3c1f00; float: left; font-family: Georgia, Utopia, 'Palatino Linotype', Palatino, serif; font-size: 13px; line-height: 18.2px; margin-bottom: 1em; margin-right: 1em;">
<img alt="17668303" height="320" src="https://d.gr-assets.com/books/1436213057l/17668303.jpg" style="border: 0px; color: #181818; font-family: Lato, 'Helvetica Neue', Helvetica, Arial, sans-serif; font-size: 12px; line-height: 18px;" width="211" /></div>
<div style="text-align: left;">
<b style="background-color: white; color: #3c1f00; font-family: Georgia, Utopia, 'Palatino Linotype', Palatino, serif; font-size: 13px; line-height: 18.2px;">Author</b><span style="color: #3c1f00; font-family: &quot;georgia&quot; , &quot;utopia&quot; , &quot;palatino linotype&quot; , &quot;palatino&quot; , serif;"><span style="background-color: white; font-size: 13px; line-height: 18.2px;">:&nbsp;</span></span>Sadie Grubor</div>
<div style="background-color: white; color: #3c1f00; font-family: Georgia, Utopia, 'Palatino Linotype', Palatino, serif; font-size: 13px; line-height: 18.2px; text-align: left;">
<br /></div>
<div style="text-align: left;">
<b style="background-color: white; color: #3c1f00; font-family: Georgia, Utopia, 'Palatino Linotype', Palatino, serif; font-size: 13px; line-height: 18.2px;">Title</b><span style="background-color: white; color: #3c1f00; font-family: &quot;georgia&quot; , &quot;utopia&quot; , &quot;palatino linotype&quot; , &quot;palatino&quot; , serif;"><span style="font-size: 13px; line-height: 18.2px;">:&nbsp;</span></span>Hidden in the Stars</div>
<div style="background-color: white; text-align: left;">
<span style="color: #3c1f00; font-family: &quot;georgia&quot; , &quot;utopia&quot; , &quot;palatino linotype&quot; , &quot;palatino&quot; , serif;"><span style="font-size: 13px; line-height: 18.2px;"><br /></span></span></div>
<div style="text-align: left;">
<b style="background-color: white; color: #3c1f00; font-family: Georgia, Utopia, 'Palatino Linotype', Palatino, serif; font-size: 13px; line-height: 18.2px;">Series</b><span style="color: #3c1f00; font-family: &quot;georgia&quot; , &quot;utopia&quot; , &quot;palatino linotype&quot; , &quot;palatino&quot; , serif;"><span style="background-color: white; font-size: 13px; line-height: 18.2px;">:&nbsp;</span></span>Falling Stars, #2</div>
<div style="background-color: white; color: #3c1f00; font-family: Georgia, Utopia, 'Palatino Linotype', Palatino, serif; font-size: 13px; line-height: 18.2px; text-align: left;">
<br /></div>
<div style="text-align: left;">
<b style="background-color: white; color: #3c1f00; font-family: Georgia, Utopia, 'Palatino Linotype', Palatino, serif; font-size: 13px; line-height: 18.2px;">Pages</b><span style="color: #3c1f00; font-family: &quot;georgia&quot; , &quot;utopia&quot; , &quot;palatino linotype&quot; , &quot;palatino&quot; , serif;"><span style="background-color: white; font-size: 13px; line-height: 18.2px;">:&nbsp;</span></span>387</div>
<div style="background-color: white; color: #3c1f00; font-family: Georgia, Utopia, 'Palatino Linotype', Palatino, serif; font-size: 13px; line-height: 18.2px; text-align: left;">
<br /></div>
<div style="text-align: left;">
<b style="background-color: white; color: #3c1f00; font-family: Georgia, Utopia, 'Palatino Linotype', Palatino, serif; font-size: 13px; line-height: 18.2px;">Genre</b><span style="color: #3c1f00; font-family: &quot;georgia&quot; , &quot;utopia&quot; , &quot;palatino linotype&quot; , &quot;palatino&quot; , serif;"><span style="background-color: white; font-size: 13px; line-height: 18.2px;">:&nbsp;</span></span>Erotic Contemporary Romance</div>
<div style="background-color: white; color: #3c1f00; font-family: Georgia, Utopia, 'Palatino Linotype', Palatino, serif; font-size: 13px; line-height: 18.2px; text-align: left;">
<br /></div>
<div style="text-align: left;">
<b style="background-color: white; color: #3c1f00; font-family: Georgia, Utopia, 'Palatino Linotype', Palatino, serif; font-size: 13px; line-height: 18.2px;">Date published</b><span style="color: #3c1f00; font-family: &quot;georgia&quot; , &quot;utopia&quot; , &quot;palatino linotype&quot; , &quot;palatino&quot; , serif;"><span style="background-color: white; font-size: 13px; line-height: 18.2px;">:&nbsp;</span></span>August 13, 2015</div>
<div style="text-align: left;">
<br /></div>
<div style="background-color: white; color: #3c1f00; font-family: Georgia, Utopia, 'Palatino Linotype', Palatino, serif; font-size: 13px; line-height: 18.2px; text-align: left;">
<b>Synopsis</b>:</div>
<div style="text-align: left;">
When you're Jackson Shaw, guitarist of The Forgotten, and your hearts been broken, shattered by the deception of a woman you thought was the one. You can't hide from cameras and millions of fans hanging on every dirty detail printed and posted.&nbsp;</div>
<div style="text-align: left;">
<br /></div>
<div style="text-align: left;">
What you can do, is swear off love and dull the ache with gorgeous women who look nothing like that girl who tore you apart. A supermodel girlfriend and sexplicit escapades splashed across the tabloids is the ultimate revenge. It's also the perfect way to hide your pain in the media. But when the ache turns to a hollow pit, and there isn't enough sex, drugs, or alcohol to fill the emptiness, what do you do?&nbsp;</div>
<div style="text-align: left;">
<br /></div>
<div style="text-align: left;">
You cut your losses and head to L.A. to mentor the latest reality talent show. You follow an old friend into a world where the art of the tease and bump and grind were perfected. Where the sound of her voice calls to every primal instinct buried within your body and makes the demand for your attention.&nbsp;</div>
<div style="text-align: left;">
<br /></div>
<div style="text-align: left;">
Jackson's an addict, and just one taste puts him back in the precarious position of falling in love with a woman who's mastered the art of ensnaring and teasing.</div>
<div style="text-align: left;">
<br /></div>
<a href="http://amzn.to/246AMRt" target="_blank">AMAZON</a> // <a href="https://www.goodreads.com/book/show/17668303-hidden-in-the-stars" target="_blank">GOODREADS</a></div>
<div class="paragraph" style="margin: 0px; padding: 0.5em 0px;">
<br /></div>
<div class="paragraph" style="margin: 0px; padding: 0.5em 0px;">
<b style="color: #464760; font-family: Lilly; font-size: 13px; line-height: 19.5px;"><span style="font-size: large;">EXCERPT</span></b><br />
<br />
<blockquote class="tr_bq" style="text-align: left;">
Showers complete, Lucas, Sean, and Kel convince Jackson to join them for video gaming. I'm thankful for the moment away from his little touches, seductive looks, and that damn mouth of his. My mind is almost cleared when Sid calls.<br />
Of course, she's more interested in the fact that Jackson is in my apartment. And keeping her on topic regarding my budget is practically impossible.<br />
"You do realize you have Jackson Shaw, guitarist of The Forgotten, playing domestic daddy in your apartment, right?"<br />
"Sid," I use my warning tone, "it's not like that, and stop referring to him by his full name and job description. It's creepy."<br />
"It's not creepy, Liza. It is panty melting, nipple tightening, hot as fucking hot can get. The fact that you don't realize this concerns me. Is your vagina working properly?"<br />
"Stop it," I laugh.<br />
"Perhaps you should have him check under your hood. And when I say hood, I mean clitoral hood," she deadpans.<br />
"Oh my God, stop it!" I cry out in laughter.<br />
"Should I be jealous?" His voice, next to my unoccupied ear, ensures my vagina is working just fine.<br />
"Sweet Lord of penises, his voice is sexy," Sid sighs over the phone.<br />
"Jealous of what?" I pull the phone away from my mouth and tilt my head.<br />
"I only want to hear 'oh my God' when it's followed by my name and you coming around my cock." His tongue flicks the lobe of my ear.<br />
I shiver and tighten my crossed legs.<br />
"That's it. I'm ruined," Sid cries dramatically. "No man will ever live up to this."<br />
"Both of you stop." My words are breathy and it takes all my strength to lean away from his mouth.<br />
"Pizza!" Lucas shouts, running toward the buzz of the intercom.<br />
Jackson straightens and steps back from me. Taking a deep breath, I move to stand, but his hand on my shoulder stops me. Instead, he walks over to the door, pulling cash out of his back pocket.<br />
"Damn cock blockers," Sid grumbles.<br />
"Sid!" I scold, but smile.<br />
"Well, damn, the kid just killed the ear porn I was getting," she whines.<br />
"Don't you have enough porn already?"<br />
"You can never have enough," she snorts. "Besides, this was real life rock star ear porn. Girl, I need to freshen up after that."</blockquote>
<br />
<span style="background-color: white; color: #464760; font-family: &quot;lilly&quot;; font-size: large; font-weight: bold; line-height: 36px;">GIVEAWAY</span><br />
<a class="rcptr" data-raflid="a50a78a57" data-template="" data-theme="classic" href="http://www.rafflecopter.com/rafl/display/a50a78a57/" id="rcwidget_mpt3m76o" rel="nofollow">a Rafflecopter giveaway</a>
<script src="https://widget-prime.rafflecopter.com/launch.js"></script></div>
</div>